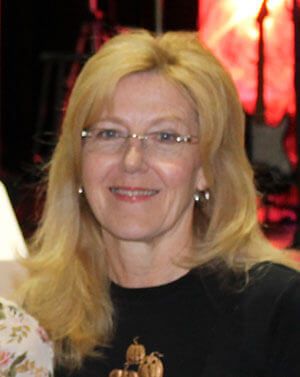 ABOUT US - short version -
Leather CARE Specialists™ and Great Leather™ are really one company with two divisions, owned and operated by Dena Hamilton in Avon, Illinois, USA. While Dena's dedication to creating great leathergoods began in 1971, her service business of today, Leather CARE Specialists™, began in it's present location in 1997. As the number of happy service customers grew, Dena was able to expand her shop present a new brand to the marketplace - GREAT LEATHER™. These unique designs and creations are currently focused on providing musicians and other artists with functional, durable, and aesthetically pleasing leather accessories.
LEATHER CARE SPECIALISTS (LCS) specializes in personal, customized service for all types of jacket repair and restoration! Especially vintage, both military and civilian.
GREAT LEATHER (GL) is American made product of some of the finest leather the world has to offer. Thoughtfully designed with artistic applications and superior construction, these leathergoods are built to last - and love!

MORE ABOUT US - long version!


When I was a high school junior in 1971, I had a school assignment for a three-dimensional design art project, any medium. I chose leather. For me, this was the beginning of GREAT LEATHER! In the early seventies there was a lot of yellow latigo to be had. You could dye it light brown in the center, feather it darker on the edges, and when you applied finish and buffed it out, it seemed mirror like. It was supple, tough, and gorgeous. I loved it.
I made my first purse and soon had girls asking me to make purses for them too. (That first purse won a Scholastic Achievement Award in Art)
Leather became my passion! As soon as I could, I found a master leather craftsman to work for. In the resort town of Grand Lake, Colorado, Paul Mauer designed and made everything in his store, "Leather Dimensions". Having sewn fabric since I was a young girl, I was a perfect candidate to apprentice sewing cowhide and sheepskin into coats, vests, and bags. I also honed my skills crafting hard leather accessories while vacationers watched from across the counter.
Winters involved a small wholesaling operation. Four of us assembled quite a lot of leathergoods for sale in the surrounding ski areas. I found a lot of satisfaction in the quiet rhythm of a small scale assembly, taking pride in my work. We were using top grain leather with a really nice feel - "hand" in leather terminology. We had a stringent quality control standard so we were making some wonderful things.
In 1976 I had a skiing accident and ended back home in Wichita, Kansas. As soon as I could get around, I was at work in Wichita's renowned, "Faith Leather." It was the place to go if you wanted a great handmade leather belt, or just wanted to enjoy the relaxed artisan atmosphere and the smell of leather. I learned more, gained more expertise, and returned to Colorado sometime later when I was able to open my own leather shop.
"Liberty Leather Goods" was located in Frasier, Colorado just a couple miles outside of Winter Park. Owning a retail store taught me about resourcing and business practices, but most of all about serving people. Sometimes, however, there are even more appealing things in life than the work you love, and in 1983 I married a musician, closed up shop, and went on the road! (It was a good move, by the way, I couldn't ask for a better man.)
When it came time to settle down, my husband and I went to Tulsa, Oklahoma. There I found work where the leather products were specialty items made of exotic leathers. I cut and sewed alligator, elephant, buffalo, kangaroo, and lizard (to name a few). Most of which I choose not to trade in today. However, the practice was invaluable. I gained lots of experience working with skins of different texture, weights, elasticity, tannage, and learned more about threads, tensions, and machines.
Also during my time in Tulsa, I contracted with a leading fur store, "Furs by Laura", for their leather alterations. There was a veteran furrier there who was generous with her skills and knowledge of fur. This gave me a chance to do some custom creations. The project I was most proud of was a ladies peach colored lambskin suit with a white fox detachable collar.
My freelance contracting included another unique opportunity, sewing for a woman's fashion accessories designer. I made the samples Lyn Bishop designed, and then filled orders from her spring and fall shows. Making new items from her ideas helped to develop my pattern making skills.
In 1999, after moving to Illinois, I secured an account with a national retail leather chain, Wilsons Leather, for alterations and repair work. I served as an independent alterations contractor to Wilson's Leather until they closed in 2009. Customers were pleased with the way I shortened their leather jacket sleeves, replaced zippers in thier leather coats, and fixed almost every leather disaster you could imagine. I started sewing for one Wilsons Leather store, but when Wilsons closed I was servicing multiple stores in four states.
As you might guess from the way my business grew, I just couldn't serve anymore people in my first Illinois location. Also, I have always loved creating new things as well as extending the life of existing ones, so in 2006-2007 my husband and I built a much larger shop where I could also develop new leather products. Now I'm using everything I've learned, to bring to market original leathergoods you will truly love -and that will last! And, if I do say so myself, building things to last is something I am especially good at.
This leads to my last offering.
Wanting to build things to last as long as possible is not just an American ideal for me, it is a core value. In the last few years I've become attuned to my love and respect for animals. You can probably imagine what a problem this created for me when I wanted to create new product again? For awhile, I really struggled with my place as a participant in the leather industry. If you have ever had thoughts of this nature as well, I would like to suggest reading the article "Perspective on Leather - its place in the world" by the "International Council of Tanners" on their website at www.tannerscouncilict.org/perspective.htm. Also, and even more important and helpful to me, has been learning about the work and philosophy of Temple Grandin. (Ms. Grandin, autistic, is an animal scientist and welfare advocate -and- the designer of humane animal handling equipment and livestock facilities, primarily for slaughter.)
Obviously, I've settled the subject of creating and offering leathergoods- for now. Should I ever judge my leather contribution is no longer drawing on the food industry's waste, but creating a cause for slaughter, "

Great Leather"

will cease to exist. Until then, I say "thank you" for the hides. There is no gift like one of leather! Perhaps it's this that makes our favorite leather items actually beloved; they were once a living breathing animal. Treat your items with care, give them the attention that is worthy of these sacrifices, and I will do my best to help you.
Love and enjoy!
Dena Hamilton